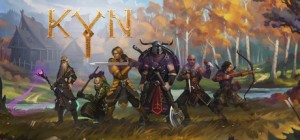 Two-person independent developer Tangrin, along with indie publisher Versus Evil, today announced the release of Tangrin's debut action role-playing game (RPG) KYN for PC. In this fast-paced tactical strategy game players control up to a six member party while they fight through a mythical Viking world. KYN is now available on Steam, GoG.com and GreenMan Gaming among others.
KYN has been modelled on classic RPG foundations, where gameplay is more than a single character-defeat-all-with-mighty-weapons. With fast action combat that requires strategic thought, a detailed storyline and deep crafting systems, gamers can expect to be immersed in this Viking world and challenged to the fullest.
"Kyn has been a long time coming. We thought we'd be able to complete it in a year – it has taken four and half!" quoted Victor Legerstee from Tangrin Entertainment. "It was a labor of love spent painstakingly crafting a grand tactical RPG. And it was well worth it. Kyn has turned into a rich RPG we are truly proud of and it will be a great escape for gamers who love to tinker with their heroes, fight tactical battles and solve the occasional brainteasing puzzles."
"KYN brings a beautiful, mythical environment to life through its rich story and beautiful landscapes," said Versus Evil General Manager Steve Escalante. "The depth in this game is truly amazing, from the hundreds of items that can be crafted, to the highly customizable six-player party and the 20-plus hour story – all created by a two-man dev team. This title truly embodies the indie spirit of Versus Evil and we are happy to be able support Tangrin on their debut video game release."
KYN is a fast-paced role-playing game set in a world where Viking mythology collides with magic. Inside the world of KYN players will utilize classic strategic RPG elements to devise traps and traverse through a unique realm with plenty of puzzles to solve and enemies to defeat. Players will control a party of up-to six different characters, all customizable with different skills and traits as they unravel the mysteries of KYN and perfect their own fast-paced fighting styles.
For more information about Kyn, visit http://www.kyngame.com/