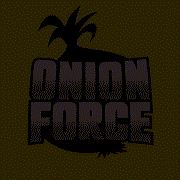 Canadian game developer Queen Bee Games is excited to announce that their first action adventure game, Onion Force, has entered Steam Greenlight.
Onion Force is an Action Adventure, Tower Defense hybrid in which the player has to use cunning and strategy to strengthen a team chosen from a diverse cast of characters that include a Bowman, a Warrior and a Wizard that work together to try and save the last king from his impending doom. Onion Force is a single player experience that covers 30 levels of action packed mayhem. Throughout the game, players have to make intelligent choices, collect thousands of pieces of equipment, and build towers that will be most effective for the threat at hand. Onion Force takes place on multiple terrain types that contain inclement weather conditions, destructible environments and multiple enemy types. Develop your own play-style across three difficulty modes and try a multitude of approaches in completing each level. In Onion Force, there are a thousand ways to win and just as many ways to lose as well if you're not careful.
Drawing inspirations from classics such as Dragon Warrior, Crystalis and Final Fantasy but also some more unexpected influences including Diablo, Dynasty Warriors and Angry Birds, Onion Force aims to be a memorable experience that will make players think and leave them thinking afterwards. A puzzling future awaits!
"After years of dreaming and a few months of us tirelessly working towards a common goal, Onion Force is finally shaping up to be the game it deserves to be," said the Queen Bee Studios co-founder, Kathleen Cassidy. Steven Cassidy, Queen Bee's other co-counder and an ex-Disney animator said, "To see one's brainchild finally enter daylight is both enormously humbling and scary at the same time. I sincerely hope the Steam audience sees the potential that we've seen in Onion Force ever since it existed only on the pages of a sketchbook!"
Game features:
Stand-out cartoon graphics and stellar special effects & animation
3 playable heroes, each with their own unique abilities
6 fully fleshed out locations with 30 expansive levels
Thousands of pieces of equipment to collect and equip
8 different towers types with 5 different power levels each
Collectable onions to trade for a wide variety of power-ups
Adjustable game speed.
The music for Onion Force has been created by Internet music legend, Oxygenfad. This Canadian-born, experimental electronic music sensation brings a devilish collection of compositions that help comprise a ridiculously hardcore, electro soundtrack for Onion Force.
The developers at Queen Bee Games firmly believe that harnessing the creative spirit of the community is essential for Onion Force and they look forward to passing through the Greenlight process and getting the game into gamers hands before the last king is extinguished.